I have been busy sewing!! So far this week, I have finished the purple polka dot shirt in my previous post and 3 1/2 skirts! The first skirt was just a standard short kaki skirt. The second one was a brown wool skirt in the below pattern, McCall 4662.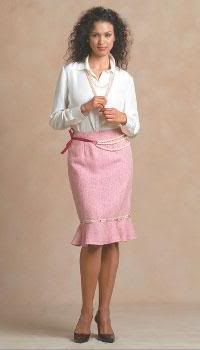 The other 1 1/2 is the Simplicity 4365 pattern below. The one completed was a purple wool for my friend Jennifer. I love making her stuff! The one not yet finished is light grey cotton and is for me!! By the beginning of next week I might have a whole new wardrobe!!

I have really enjoyed this week of sewing and I know it is going to continue! As soon as I have pictures of the finished projects, I will post them!!